Virtual Jogs and Bike Rides
We also offer faster-paced scenery DVDs for use either while jogging on a treadmill or cycling on stationary indoor exercise bikes. These Virtual Scenery DVDs will make the time spent on your stationary bike, upright bike, recumbent bike, instride cycle, mini-cycle, Airdyne, or Endurocycle go by quickly. We currently have eight different Virtual Jogs and Bike Ride Scenery DVDs filmed in Ireland, Scotland, Canada and the USA - click on our DVD Catalog link for an up-to-date list of all of our Jog and Bike Scenery DVDs. We'll continue filming and editing new Virtual Bike Rides in scenic areas of the USA and Europe over the coming months and years so that you can continue to enjoy the time spent exercising!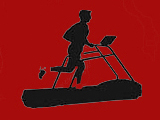 " I need more cycling DVD's...just love them!!!! Went to Argyll today and had too much fun telling the sheep to get out of the road and waved thanks to drivers who pulled off to the side of the road to let us by. The sheep are the size of cows; really wanted to stop on the shoreline for a picnic! This one is my favorite!!!! Thanks for a wonderful product! Margie"
" I just wanted to thank you for your videos - I've been able to increase the time I spend exercising, which pleases my doctor no end! I especially wanted to tell you that your Mahone Bay is the perfect exercise video - an enticing mixture of lovely countryside, seashore and village. Exactly the kind of bike ride I would take myself if I could. I have stayed longer than I needed to on the bike just to keep watching! Thank you so much! Eren"
" Hi Folks, After having purchased your Agryll jogging DVD, I am a loyal customer. Great product and I am ordering several more to enhance my workouts further. Today, I am ordering the following DVDs: . . . . Larry"
" I just want you to know that you have some wonderful dvds on your site and I shall be checking your site from time to time, I am very pleased with what I have already purchased from you, The Hollywood hills dvd was just so wonderful I really enjoyed it, I have been looking around for these dvds for such a long time, I just cannot find them anywhere in England to purchase these, and I thought I`d go on the internet and your site came up and I was so impressed with them. So keep making these dvds I shall definitely purchase more from you!!!!! Many Thanks, Sheila"
" These days it is rare to find such a high level of customer service and the quality of the product is extraordinary. I chose the Irish jogging DVD. Having lived there it was like going back to the days before I needed to be on my treadmill. Now I have a great incentive to do my cardio. Thanks guys!, C.R. Bryant"
TREADMILLS ARE BORING NO MORE!
Did you know that you could tour the world while you exercise?
Or that you could exercise tomorrow by walking in Rome, the next day in London, the following day you could exercise on the Isle of Capri, the next by walking in Egypt.....
And you could keep on exercising every day for a month in a new and different world location without repeating a single location!!!!
It's very simple: We are the world leaders in Virtual Experience Videos! Our company produced the first Treadmill Virtual Walk Video for Exercising over twelve years ago and today we have more Treadmill DVDs and Videos filmed in beautiful and historic World Locations than anyone else - period.
With so many places to see, what are you waiting for? We'll make the time spent exercising on that treadmill FLY BY! The only problem is deciding which country you want to tour first!
Please begin by taking a look below and decide which locations interest you. To read about each of our Treadmill DVDs in detail or, to watch video clips from each one, click on a title from the list below:
DVD and HD DOWNLOAD PRICES:
DVD Prices: Our DVDs are $14.99 each with Free First Class Shipping in the USA. And we have a Buy 3 DVDs get one FREE offer that includes FREE PRIORITY SHIPPING in the USA. To order or to read more about our DVDs and our Customers' Comments, please click here.
HD Downloads Prices: We also have 720 HD Download versions of our videos available at only $9.99. To order or to read more about our Downloads, please click here.
Who are we? We're VITA Digital Productions and in addition to filming Virtual Experience Videos all over the world, we also supply High Definition Video Footage of Europe and Egypt to all of the major networks and Cable channels around the world.
You've seen our HD footage used in documentaries, movies, and commercials on ABC, CBS, NBC, the BBC, the Canadian Broadcasting Corporation, A&E, the History Channel, the Biography Channel, Netflix, and many, many other places. To read more about our company, please click here.
And we continue to film new Virtual Experience Videos in beautiful and historic locations all over the world. This year alone we plan to add 20 new titles to our list of Virtual Experience Videos bringing our Catalog to a total of over 50 titles!
Customers Love Our Treadmill DVDs!
" These are fantastic! My treadmill walk is so fun now. I will be ordering more. What is your favorite of the virtual walk/bike/jog dvds? Brigette"
From a recent blog about our DVDs: "I've ordered lots of their videos: Scotland, Ireland, Egypt, Florida, Hawaii, Italy. And yes, my treadmill time is a lot happier and more exciting now. And interestingly enough, it just seems to fly by because I'm enjoying the virtual scenery so much." To read the complete blog, please click here.
" I am going to be celebrating my 3rd year of keeping off 100 lbs. on the 14th of July, with the help of WW and your videos!!! Hated the treadmill until I found them, they are awesome thank you!!! Becki"
" Thanks again for your being there for people like myself who need you! Deborrah"
" I'm thrilled to tell you they came today, safe and sound. I've already watched half of them and am in love. As a writer, I looking up from my writing seeing the beautiful scenes on these DVD's. It's so inspiring. Thank you for that. I was wondering when the new ones, like Pompeii, are set to come out? Thanks from Doreen M."
" These DVDs are wonderful. Good for fitness, but as in my case, good for a way to relax after a challeging day at the office. Looking forward to many more! Vernon"
" I was delighted to receive the DVD and it makes the treadmill more enjoyable. It is a good representation of Irish woodlands with some interesting tree formations. I will be ordering other DVDs from you in due course. Regards, Don"
" I got the disc today and it looks and works amazing! You did such an wonderful job capturing the footage, it really feels like you're walking there when on the treadmill! Bonus footage was spectacular too. I can't wait to see the other two videos, Cotswold Villages 2 and Ravello. I think having the three will give me a good variety to start with. Later I will definitely want to add more locations to keep things interesting. I just know that I'll find something new every time I view them. I can't tell you how excited I am about your videos and how they will improve my exercising. It's really turning something I force myself to do, into something that I look forward to and enjoy doing. You have such a wonderful concept and execution. Thank you so very much, I really appreciate your talent, your accommodating my needs, your speedy turn around and your excellent product! Van"